BOSTON, Mass. /Massachusetts Newswire/ — On Friday, Boston Mayor Martin J. Walsh announced the launch of CEASE Boston (Cities Empowered Against Sexual Exploitation), a chapter of the CEASE Network, a collaboration of 11 pioneering cities committed to combating sex trafficking by reducing demand for buying sex by 20 percent in two years. The launch, attended by Boston Police Commissioner William Evans, Attorney General Maura Healey, and Ambassador Swanee Hunt, marks the beginning of a two-year effort to reduce demand for paid sex in Boston.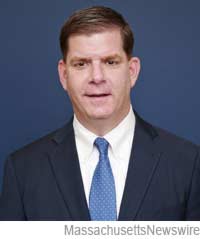 "Boston is a city that is committed to ending sexual exploitation, and CEASE Boston is one major step towards that," said Mayor Walsh. "Human beings, particularly women and children, are being bought for sex in our own neighborhoods. In Boston, we will not tolerate this illegal and exploitative industry that deprives vulnerable people of their basic human rights and funds a predatory business often tied to gangs and organized crime."
"The mission behind this initiative is simple: cutting off demand and limiting opportunity for exploitation," said Attorney General Maura Healey. "While we continue to focus on improving services for survivors, addressing demand is an important part of combating human trafficking. We thank the Mayor for his leadership on this fundamental issue of public safety and human rights, and we look forward to working with him to put an end to sex trafficking in Boston."
"The exploitative and abusive nature of the sex trafficking trade must come to an end," said Commissioner William Evans. "Far too many young women are victimized by this harmful and destructive cycle. The Boston Police Department is committed to working closely with CEASE Boston and fully support their efforts to fight sex trafficking in the City of Boston."
CEASE Boston will target the men who are buying sex on the streets, and quietly using the Internet to solicit sex. The program aims to reduce online demand activity by 20 percent, as well as street level activity by 80 percent, over the next two years. The program will be co-chaired by Donna Gavin, Sergeant Detective of Boston Police Department's Human Trafficking Unit, and Daniel Mulhern, Director of the City of Boston's Public Safety Initiative.
In Boston, the two-year countdown also tracks the progress of increasing accountability measures, growing public awareness of sexual exploitation in Boston, and improving access to treatment and exit programs for both survivors and buyers. CEASE Boston will measure success by tracking trends, including attitudes related to illegal commercial exploitation; transaction trends on local websites as compared to other cities nationally; online paid sex purchasing behaviors; and efficacy of deterrent posts and public awareness intervention messages.
"While our women and children caught up in sex trafficking have limited options, sex buyers always make the choice to perpetuate a deeply damaging industry," said Audrey Morrissey, associate director of My Life My Choice, a survivor-led organization in Boston, and a survivor herself who attended today's launch. "Reducing demand is just one important way to end the sexual exploitation of young people. As survivors, we are leaders in a fight that we know we can win."
"We're very excited that Mayor Walsh is so publicly committed to this issue ," says Ziba Cranmer, Executive Director of Demand Abolition, a Cambridge based program working to reduce the demand for paid sex in America. "It speaks volumes about his dedication to supporting some of the city's most vulnerable citizens. We're proud to call him a partner in our work."
Last month, the 11 cities in the CEASE Network were announced during a gathering of national anti-trafficking leaders in Phoenix, AZ. The cities include: Atlanta, Boston, Chicago (Cook County, IL), Dallas (North Texas), Denver, Houston, Oakland (Alameda County), Phoenix, Portland (Multnomah County, OR), San Diego, and Seattle (King County, WA).
CEASE Boston is supported by Demand Abolition, a Cambridge-based non-profit, catalyzing the new initiative to forge a network of cities that are independently developing their own strategies and tactics to reduce sex-buying.