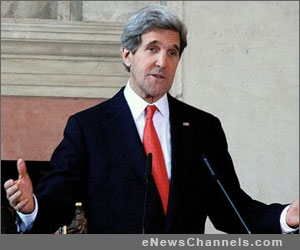 BOSTON, Mass. /Massachusetts Newswire/ — Today, U.S. Secretary of State John Kerry signed a memorandum of understanding with Boston Police Department Commissioner Edward Davis on May 13 to increase cooperation aimed at building foreign law enforcement capacity. The Boston Police Department has a long history of promoting partnerships in both the public and private sectors to reduce violence and strengthen public safety initiatives.
Plans for this new partnership predate the marathon bombings in the Secretary's hometown.
The Department of State's Bureau of International Narcotics and Law Enforcement Affairs (INL) operates in more than 80 countries and has come to rely on U.S. police experts to develop cross-border linkages to fight modern criminal threats.
The INL Bureau has more than 50 formal and informal police, justice, and corrections partnerships across the United States.
The Department of State benefits by tapping into the unique skill sets, knowledge, and expertise of active serving police officers, corrections officers, and legal professionals.
State and local partners expand their ties to countries with which their communities have links, develop new skill sets, and represent their country.
Host country counterparts benefit from working with active-serving U.S. counterparts and learning their proven law enforcement methods. The international relationships developed through these programs are often useful to U.S. police departments as they address the challenges of combating foreign criminal networks.
In this instance, the State Department and Boston Police Department will now complete final negotiations over what specific regions and types of exchanges the partnership shall entail.