WEST BARNSTABLE, Mass. /Massachusetts Newswire/ — The Oil Painters of America (OPA) announced that Ronald Tinney has been juried into its 2009 National Exhibition of Traditional Oils. The show will be held at Sage Creek Gallery in Santa Fe, New Mexico, from May 1 through May 31, 2009. Tinney's "Afternoon Light," an oil painting measuring 10 x 20 inches, was selected for the show and is one of only two chosen works by Massachusetts artists. Completed en plein air along a beach on the north side of the Cape, the painting evokes a warm, sunny day on Cape Cod in late summer.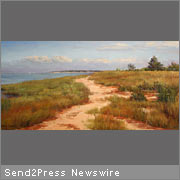 Considered one of the most well-known competitions in the country, OPA's National Exhibition receives over 2,400 entries. Only 200 artists from the U.S., Canada, and Mexico were chosen to display their work.
"This competition brings out the best of the best," said OPA President Neil Patterson, "which makes for an exciting exhibition that is unrivaled in its quality."
"Being accepted into the OPA national exhibit is very exciting and allows me to show alongside some of the best artists in the country," said Tinney, who was recently juried into the American Society of Marine Artists as a Signature Member.
The National Exhibition's opening weekend, May 1-3, 2009, includes an awards ceremony on Friday evening as well as a series of educational events for artists and collectors. The show's most coveted prize is the American National Award of Excellence, valued at $22,000.
The public is invited to view and purchase the exceptional works of art throughout the exhibition period.
For more information, visit www.ronaldtinney.com or www.oilpaintersofamerica.com.
About Ronald Tinney
Primarily a coastal landscape painter, Ronald Tinney is a member of the International Society of Marine Painters, the American Society of Marine Artists, and the Mystic Art Association. His oil paintings have been included in exhibitions at the Cahoon Museum of American Art, the Ventura Maritime Museum in California, and most recently, a one-man show at the Cape Cod Museum of Art. He is represented by fine art galleries in Massachusetts, Rhode Island, New Jersey, and Florida.
About Oil Painters of America (OPA)
Oil Painters of America was founded in 1991 by Shirl Smithson primarily to focus attention on the lasting value of fine drawing, color, composition, and the appreciation of light. Over time, OPA became the voice for renewed understanding and appreciation of representational art. Today, it provides a valuable forum for artists through both regional and national competitions.