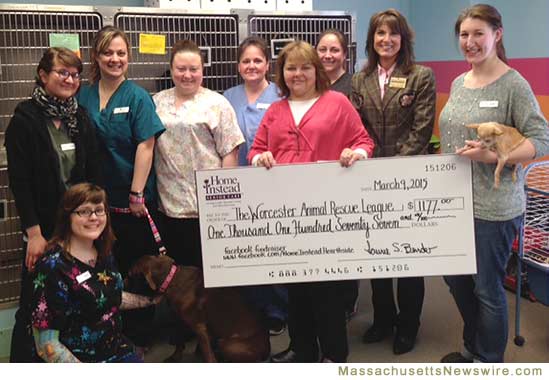 WORCESTER, Mass. /Massachusetts Newswire/ — The Worcester Animal Rescue League today announced that a February fundraiser brought needed support to their efforts in rescuing at-risk pets and animals. For the month of February, Home Instead ran a fundraiser that encouraged readers to "Like" their Facebook page and in turn, Home Instead would donate to the Worcester Animal Rescue League.
Home Instead Senior Care, a leader in the Home Care industry, is a private-pay agency that has been serving the Worcester County and Metro West areas since 1997. Because of their commitment to the community and the residents they serve, Home Instead chooses several non-profit organizations each year to run a Facebook Fundraiser.
"It's a win-win situation," says Laurie Bender, Owner of Home Instead. "We are fortunate that we are able to give back to the community and this year we got the confirmation from Allie Tellier at the Worcester Animal Rescue League."
Home Instead Senior Care caregivers will go into a senior's home providing companionship and support in all types of household chores and activities of daily living allowing them to safely stay in their home and remain independent.
According to Bender, "It was a natural fit for the organizations to work together as pets can play an instrumental role in the well-being of a senior. Many times a senior can benefit by having the companionship and a reason to care about something. What was unique about WARL was the Senior for Senior program. WARL waived the adoption fee if a Senior was adopting a 'senior' pet."
For more information about:
Home Instead Senior Care visit: www.hearthside-homeinstead.com
Worcester Animal Rescue League visit: www.worcester-arl.org