SPRINGFIELD, Mass. /Massachusetts Newswire/ — Mass. Governor Deval Patrick today welcomed students back to school at the Springfield Renaissance School, the city's first Innovation School, which provides a personalized approach to helping each student succeed, while promoting college readiness.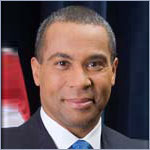 "Innovation Schools give local communities the tools to close achievement gaps and create an environment where every student can access a high quality education," said Governor Patrick. "I welcome students back to school and thank the team at the Springfield Renaissance School for leading the way forward on educational innovation."
The Springfield Renaissance School is an expeditionary learning school serving grades 6-12 and focuses on active, interdisciplinary learning. It has been approved as a cost-neutral innovation school by the Springfield School Committee. For the past two years, the school has had a 100 percent college acceptance track record for its senior class. With 58 percent of its students reported as low income and 73 percent reported as students of color, the school has been successful in closing achievement gaps and supporting its diverse student population's academic growth.
"The flexibility that the Innovation School model provides is a powerful way of enabling educators and community members to take on enhanced leadership," said Executive Office of Education Secretary Paul Reville. "The opportunity for teacher leadership and community involvement abounds in Innovation Schools."
The Innovation Schools initiative is a signature component of the Patrick-Murray Administration's education reform efforts and was authorized as part of the Achievement Gap Act of 2010. Innovation Schools provide educators, and a wide range of community stakeholders, the opportunity to create in-district schools that operate with greater autonomy and flexibility while keeping school funding within districts. These schools can implement creative and inventive strategies related to curriculum, budget, school schedule and calendar, staffing, professional development, and school district policies to improve learning outcomes for all students and reduce achievement gaps.
"I extend my thanks and appreciation to Governor Patrick and Lieutenant Governor Murray for their commitment to Springfield and our school district," said Mayor Domenic J. Sarno. "It is pleasing to be recognized and awarded funding to allow our students to achieve education excellence. I commend Principal Steve Mahoney, teachers, staff, students and parents on their innovation status."
"Innovation schools are an important part of closing the achievement gap for students here in Springfield as well as across the Commonwealth," said Senator Gale D. Candaras. "These investments in education are imperative to the success of our young people."
Innovation Schools are approved by local school committees through a collaborative process that invites community and school stakeholders to engage in solving their communities particular issues by taking advantage of the flexibilities and autonomies afforded to Innovation Schools. These schools have been established for varying grade levels (e.g. elementary, middle and high school) and school types (such as new or converted schools or programs within an existing school).
Many of these schools are organized around specific themes like Science, Technology, Engineering and Math (STEM), dual language instruction, International Baccalaureate (IB) programs, alternative education opportunities (such as dropout prevention and dual enrollment at community colleges), virtual platforms and wraparound services. Many of the schools also operate with novel schedules that will significantly increase instructional time for students and professional learning opportunities for educators. There are currently 18 established Innovation Schools located across the state.