Home
Tags
Augmented Reality
Tag: Augmented Reality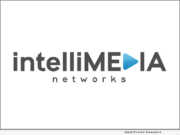 LOS ANGELES, Calif. /Massachusetts Newswire - National News/ -- Intellimedia Networks, Inc., a Los Angeles based immersive solutions technology company, today announced that certain of its IP has been acquired by Frontera Group, Inc. (OTC Pink: FRTG) ("Frontera" or "the Company"), a Dallas, Texas based technology-focused strategic acquirer of revenue-generating companies and intellectual property (IP), as part of its multi-part strategy to make further acquisitions from Intellimedia's suite of technology solutions.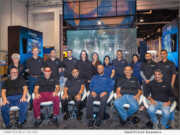 RIDGEFIELD, Conn. /Massachusetts Newswire - National News/ -- Domotics RE-Technologies, LLC ("Domotics") is a real estate technology company with solutions that revolutionize how home buyers and sellers interact in the digital world. Domotics was nominated for the prestigious Residential Systems 2022 Picks Awards at the CES show in Las Vegas for its industry-leading solution that promises to advance the real estate buying experience.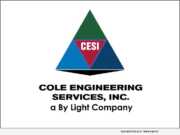 MCLEAN, Va. /Massachusetts Newswire - National News/ -- Cole Engineering Services, Inc. (CESI) a By Light Company, has been awarded a $31.3M contract by the National Spectrum Consortium (NSC) for the Augmented Reality/Virtual Reality (AR/VR) 5G Network Enhancements Prototype Other Transaction Agreement (OTA).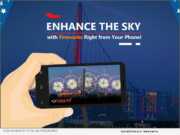 DUBLIN, Ohio, June 30, 2020 (SEND2PRESS NEWSWIRE) -- Using the free TotalAR app on a smartphone or tablet, you can watch augmented reality fireworks from any location from 9 p.m. to midnight local time on July 4, HoloPundits announced today. The fireworks display will run 12 minutes and will feature patriotic virtual fireworks and music.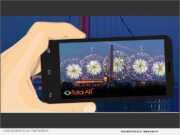 DUBLIN, Ohio, June 25, 2020 (SEND2PRESS NEWSWIRE) --- While social distancing guidelines are still in effect, many Fourth of July celebrations have been put on hold. Though nothing can replace the magic of real fireworks, HoloPundits, a technology company, created a free augmented reality experience available to anyone with a smartphone or tablet.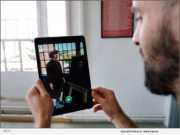 LOS ANGELES, Calif., April 16, 2020 (SEND2PRESS NEWSWIRE) -- Immersive Augmented Reality developer INDE launches a range of technology initiatives to help launch and promote brands during the COVID-19 pandemic.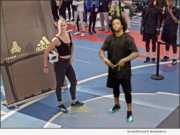 LOS ANGELES, Calif., Sept. 18, 2019 (SEND2PRESS NEWSWIRE) -- The application of Augmented Reality techniques, immersing fans in multiple elements of their favorite sports, has taken fan engagement to new levels, says AR innovator, INDE. The passive consumption of a matches or games is fading into the past. Today it's possible to involve spectators in ways that were previously unheard of, and that's where out-of-the-box marketing tools come into the picture.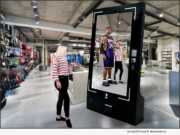 LOS ANGELES, Calif., Sept. 16, 2019 (SEND2PRESS NEWSWIRE) -- Augmented reality company INDE have celebrated the 3rd anniversary of the international launch of their kiosk-sized interactive photo booth - "HeroMirror." Powered by their award-winning BroadcastAR software, the HeroMirror revolutionises user engagement due to its ability to "resurrect" any existing or imaginary character.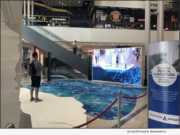 LONDON and LOS ANGELES, Calif., June 17, 2019 (SEND2PRESS NEWSWIRE) -- Leading Augmented Reality company INDE is proud to announce a partnership with Brookfield Properties to launch the world's first augmented reality display network. Brookfield is a premier retail property operating company with whom INDE will launch an Augmented Reality advertising network of 7 high-traffic screens in flagship malls across 6 US states with more to follow.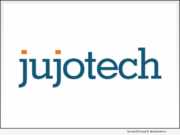 SANTA CLARA, Calif., May 28, 2019 (SEND2PRESS NEWSWIRE) -- Jujotech, a leading company in the push to transform business and industry through the use of augmented reality and remote assist, is introducing Fusion AR with WorkLogic, its latest solution that delivers actionable workflows to connected workers wherever they may be.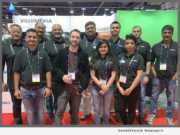 LOS ANGELES, Calif., April 23, 2019 (SEND2PRESS NEWSWIRE) -- California-based leading immersive media technology provider IntelliMedia, bagged not one but two of the coveted Product of the Year awards at the world's largest media tech expo NAB 2019, which concluded recently in Las Vegas.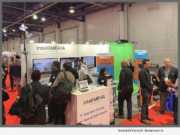 LAS VEGAS, Nev., April 10, 2019 (SEND2PRESS NEWSWIRE) -- Leading Cloud video solutions provider IntelliMedia Networks' two products have been shortlisted for 2019 NAB Show Product of the Year Awards (NAB 2019 Booth SU 8924). This Los Angeles based media-tech company delivers personalized video experiences across all screens and has proven track record in video management, publishing, analytics, and monetization.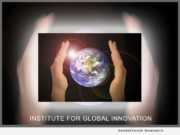 CAMBRIDGE, Mass. /Massachusetts Newswire/ -- For four years, governments, private industry, and academia have striven to find effective solutions for the 17 Sustainable Development Goals as defined by the U.N. at the 2015 Plenary Session in New York. Now a new approach is being pioneered by the Institute for Global Innovation, a worldwide NGO which seeks to scour the globe for the most efficient technologies to solve these challenges, according to IGI Directors Soani Gunawan, Amy Chang, and John Toomey.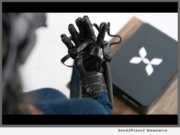 SEATTLE, Wash., Nov. 20, 2017 (SEND2PRESS NEWSWIRE) -- HaptX Inc., formerly AxonVR Corporation, announced today its first product, HaptX Gloves, the world's only haptic wearable to bring realistic touch and force feedback to virtual reality. HaptX Gloves feature over 100 points of high-displacement tactile feedback, up to five pounds of resistance per finger, and sub-millimeter precision motion tracking.