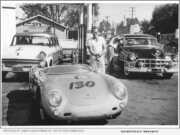 SAN FRANCISCO, Calif. /Massachusetts Newswire - National News/ -- More than 65 years after the infamous crash, a major component of the James Dean Porsche 550 Spyder will be offered at auction, Don Ahearn, Owner, announced today. This will be the first time ever a confirmed part of the Porsche 550 Spyder will be offered for sale.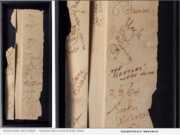 LOS ANGELES, Calif., Feb. 11, 2021 (SEND2PRESS NEWSWIRE) -- Music collectors take note. Fifty-seven years ago, on February 9, 1964, The Beatles made history with their first live American television appearance on "The Ed Sullivan Show." It had one of the largest viewing audiences ever, changed the course of music and influenced generations to follow. Today, Rockaway Records is proud to present a rare, one-of-a-kind artifact from that historic debut - a fully-signed piece of that stage's backdrop.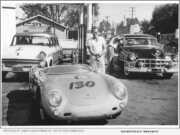 OAKDALE, N.Y., Sept. 29, 2020 (SEND2PRESS NEWSWIRE) -- Sixty-five years after the infamous crash, a major component of the James Dean Porsche 550 Spyder has surfaced. Found in rural Massachusetts, the original and complete transaxle assembly will see the light of day after being stored in a wooden crate and hidden from public view for over 30 years. Porsche collector Don Ahearn unveils this discovery from the car that many Porsche enthusiasts consider to be the most famous of the marque.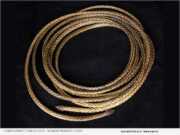 NEW YORK, N.Y., July 28, 2020 (SEND2PRESS NEWSWIRE) -- Wonder Woman, the most popular female superhero, continues her meteoric rise. Her much-anticipated movie sequel, "Wonder Woman 1984," will be released in early fall. But before then, fans and collectors can score a piece of her magic, including original comic books and a one-of-a-kind movie prop, thanks to ComicConnect's August Event Auction.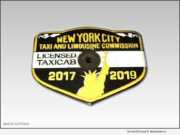 CENTRAL ISLIP, N.Y., July 3, 2019 (SEND2PRESS NEWSWIRE) -- Maltz Auctions, a premier full-service auction company serving the New York Metropolitan region, announced it will auction sixteen New York City taxi medallions, of which fourteen are individual and one is a mini-fleet pair, at the NY LaGuardia Airport Marriott Hotel, on Thursday, July 11, 2019 at 11 a.m. with registration commencing at 9:30 a.m.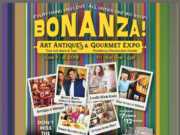 PENDLETON, Ore., May 30, 2019 (SEND2PRESS NEWSWIRE) -- The Bonanza Art Antiques & Gourmet Expo is coming to the Pendleton Convention Center on June 7 and 8, 2019. This inaugural event will feature an eclectic mix of artists, antique and vintage dealers, small gourmet food producers, and offer tastes from several Oregon wineries, breweries and other craft beverage houses.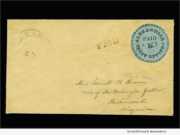 NEW YORK, N.Y., May 13, 2019 (SEND2PRESS NEWSWIRE) -- H.R. Harmer will conduct the sale of the first part of the renowned "ERIVAN" Collection of United States Postal History in New York City. Included in this sale will be the famed "Alexandria Blue Boy" stamp, which last appeared at public auction in 1967. Opening price for the stamp will start at $1,000,000 with industry experts agreeing the final price is likely to go much higher.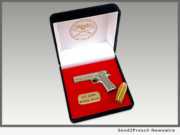 ROME, Ga., May 2, 2017 (SEND2PRESS NEWSWIRE) -- Hampton & Weaver, a small firm in historic Rome, Georgia has begun producing a Collection of "Famous Handguns of the World" in one-quarter scale. These mini-replicas vary from 1 1/2-inches to 3 3/4-inches in length, are cast from zinc, electroplated with silver and an antiqued finish is applied to accentuate the features of each miniature. Every model is simply exquisite, with aesthetic detail ingrained into each creation.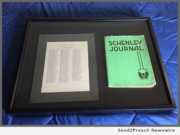 LAS VEGAS, Nev., Jan. 11, 2017 (SEND2PRESS NEWSWIRE) -- A newly discovered piece of Andy Warhol History is up for sale by The Metallic Art Gallery on eBay. It shows the great artist's name as Andrew Warhola in a student honor roll document deserving of an Honorable Mention for his performance in his first semester of the ninth grade at Schenley High School in Pittsburgh.