NEW YORK, N.Y., Feb. 11, 2015 (SEND2PRESS NEWSWIRE) -- Ellen Relkin, of counsel attorney with Weitz and Luxenberg, P.C., has been named to the plaintiffs' steering committee created by judicial order to facilitate lawsuits against the makers of the anticoagulant drug Xarelto, the personal injury and mass tort law firm today announced.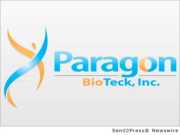 PORTLAND, Ore., Oct. 15, 2014 (SEND2PRESS NEWSWIRE) -- Paragon BioTeck, Inc., a privately held biopharmaceutical and medical device company specializing in the development of ophthalmic pharmaceuticals, devices and therapies, will be exhibiting at the American Academy of Ophthalmology (Booth #4550) in Chicago, Ill., on October 18 - 21.
PLYMOUTH, Minn., Oct. 14, 2014 (SEND2PRESS NEWSWIRE) -- SilkTears, LLC, a privately held, research-based and product-driven biotechnology company, announced today that advances in protein-based excipient technology may allow for the development of artificial tear products that will more closely represent certain characteristics of the natural makeup of the tear film, and may help the significant population of patients suffering from dry eye syndrome.