BOSTON, Mass. /Massachusetts Newswire/ — Out of 200 entries submitted by 70 artists from around New England working in the realist tradition, 35 paintings were selected for The Guild of Boston Artists' Annual New England Representational Competition. Two of the 35 are Sunrise Magic and Resting Quietly by Ronald Tinney (www.ronaldtinney.com), an artist based in West Barnstable, Mass. The final show, chosen by guild members and jurors Robert Douglas Hunter, Pamela Pindell, and Frank Strazzulla Jr., is available for viewing in the President's Gallery until August 31, 2008.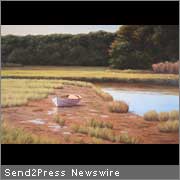 Tinney, who primarily paints coastal landscapes, is one of only three artists with two pieces in the show. "I am thrilled that my work was recognized by the judges, and to have two pieces selected is a real honor," he said.
After beginning his painting career less than a decade ago during an oil painting class at the Cape Cod Art Association, Tinney has studied with guild members Sergio Roffo, Joseph McGurl, and Donald Demers. His work – represented by seven galleries, ranging from Florida to the North Shore of Mass. – was recently highlighted in a solo show, titled "Waters of Cape Cod," at the Cape Cod Museum of Art.
The Annual New England Representational Competition is the only show not limited to guild members. "It is exciting because it gives non-members a chance to show their work in this gorgeous, historic building," commented Gallery Manager William Everett, referencing the guild's Newbury Street location. "It's the one time of year when we reach beyond our four walls and very small, prestigious membership."
About Ronald Tinney: Primarily a coastal landscape painter, Ronald Tinney is a member of the International Society of Marine Painters, the American Society of Marine Artists, and the Mystic Art Association. His oil paintings have been included in exhibitions at the Cahoon Museum of American Art, the Ventura Maritime Museum in California, and, most recently, the Cape Cod Museum of Art.
About The Guild of Boston Artists: Established in 1914 as a gallery to promote emerging and established artists living in the region, The Guild of Boston Artists was initially owned and operated by some of the most prominent painters of the time. After transitioning to nonprofit status in the 1930s, its mission has been to encourage traditional art while adhering to the highest standards of quality and presentation.