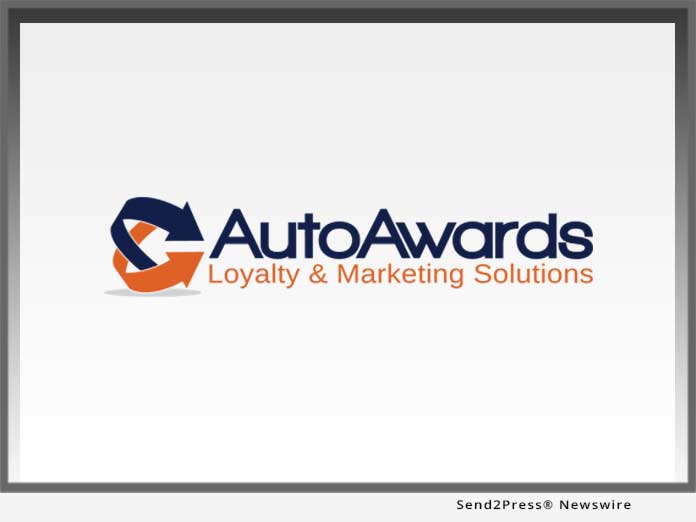 ODESSA, Del., Mar 11, 2019 (SEND2PRESS NEWSWIRE) — AutoAwards, provider of automotive dealership loyalty programs and marketing solutions, announced the launch of a video series called "Loyalty Matters." The primary focus for an automotive dealership at the start of a new year as vehicle sales start to slow is to retain their most profitable customers.
In the first episode, Jon Greene, Vice President of Operations at AutoAwards, shares the answer to this frequently asked question: What is the magic formula for keeping customers loyal?
Greene said, "I worked side by side with auto dealers for the past 22 years to build some of the most proactive, exciting, and engaging rewards programs our industry offers. I'm always asked the same question, whether it's from an employee, a manager, or a dealership owner. They want to know the key building blocks to making sure a rewards program is successful."
Greene said there are a few key building blocks to make sure the automotive dealership's loyalty program is successful and built to bring a return on investment.
Greene poses the following questions and shares tips to creating successful car loyalty programs:
1. Is the program branded for the dealership? If it isn't branded for the dealership, then it is a missed opportunity.
2. Does the loyalty program sell cars for the dealership? A good rewards program should be as strong on the front end to sell cars as it is to retain customers. If a dealership isn't selling cars, then the customer isn't going to return anyway.
3. Does the program accomplish the dealership's goals? For it to be a good loyalty program, figure out what needs to be built into the rewards program to accomplish the dealership's goals.
4. Does the program build value? The best loyalty programs give the dealership's salespeople a tool to leverage and build the dealership's value as part of the vehicle sale.
5. Does it reward customers for staying loyal to the dealership? A successful reward program always includes a points system that also has the ability to identify, track and reward the best customers when they continue buying from different departments in the delaership.
6. Does it offer value outside of the dealership? A truly successful loyalty program offers customers value in between service visits. AutoAwards has perfected this part of building loyalty with their Keep It Local program. We build additional incentives at local restaurants, retail stores, golf courses, and other local merchants into a dealership's rewards program to keep them top of mind in between visits.
7. Does the program allow the dealership to stand out from the competition? If the program is from the factory or the same as a competitor's, it doesn't make a dealership any different from the next one. Successful loyalty programs should create a huge advantage over the competition. AutoAwards offers territory exclusivity and focuses the car loyalty programs on offers that differentiate dealerships from its competitors.
Greene said a successful car dealership loyalty program should contain a mix of benefits that include points, rewards and discounts as well as lifestyle benefits, which promote the long term goals of the dealership to retain customers.
Discover more tips in upcoming episodes of Loyalty Matters. Visit AutoAwards' website to get a consultation to start a loyalty rewards program and sign up for the email newsletter at http://www.autoawards.com/.
About AutoAwards:
Since our founding in 1991, AutoAwards has been widely recognized as the industry-leader in automotive and marine loyalty marketing, earning longstanding relationships with many of the industry's most successful dealer groups and OEMs.
Since marketing for automotive dealerships has changed in the past 25 years, AutoAwards understands the #1 predictive factor for dealer growth and profitability. Customer loyalty is the most successful way to build revenue. Hundreds of automotive groups use and recommend loyalty programs for dealers as the way to drive brand loyalty. AutoAwards has always recognized the need for top notch, highly creative, effective loyalty strategies in large and small businesses alike.
For this reason, our automotive loyalty marketing expertise is engineered to meet the individual needs and goals of any business – regardless of its size. Contact us online to talk about dealer loyalty or call 302-696-6000. Visit: http://www.autoawards.com/.
*(LOGO 72dpi: http://www.autoawards.com/wp-content/themes/auto-awards/images/logo/logo-inner.png)
Video: https://youtu.be/FB0s655E740
News Source: AutoAwards Inc.
Related link: http://www.autoawards.com/
This press release was issued on behalf of the news source, who is solely responsible for its accuracy, by Send2Press Newswire. To view the original story, visit: https://www.send2press.com/wire/autoawards-announces-loyalty-matters-video-series-for-automotive-dealerships/