Home
Tags
Legalize Ferrets
Tag: Legalize Ferrets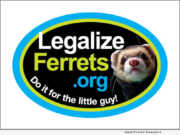 SAN DIEGO, Calif. /Massachusetts Newswire - National News/ -- Non-profit Legalize Ferrets (legalizeferrets.org) announced today that we are disappointed that California Attorney General ignores Civil Code in Domestic Ferret Ballot Initiative. The ferret legalization grassroots organization, has repeatedly asked the California Attorney General for a legal opinion.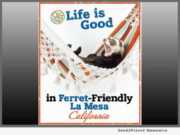 LA MESA, Calif., Nov. 15, 2017 (SEND2PRESS NEWSWIRE) -- Mayor Mark Arapostathis and all members of the La Mesa City Council issued a proclamation on November 9 urging the California State Legislature to pass ferret legalization legislation, non-profit Legalize Ferrets announced today.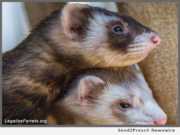 LA MESA, Calif., April 4, 2017 (SEND2PRESS NEWSWIRE) -- Legalize Ferrets, a California organization that continues to advocate for ferret legalization in the state, has a watchful eye on The California Fish and Game Commission this month. Why? The commission is set to consider issuing permits for ferrets during its April 26, 2017 meeting in Van Nuys, Calif.