FORESTDALE, Mass. /Massachusetts Newswire/ — SunRa Solar, a seasoned solar energy system installer serving Eastern Massachusetts and Cape Cod, is announcing their new strategy to expand product offerings aimed at Massachusetts homeowners. By widening their solar panel portfolio, refining options to add battery storage and electric vehicle chargers, and simplifying processes, the company expects a greater number of Massachusetts families will find their own path to energy savings and self-sufficiency.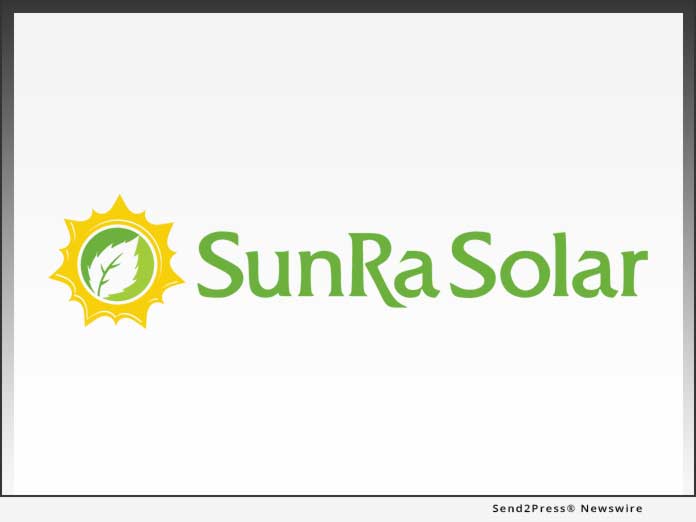 SunRa Solar is adding products from reputable North American manufactures like Solaria and Silfab, as well as overseas makers like LG, Sonnen, among others.
Massachusetts Solar Power Leadership
Massachusetts has been a solar energy leader for several years, already with nearly 2.5 Gigawatts (2,500 Megawatts) of installed generating capacity. That's enough to power almost a half million homes. In 2019, two primary incentives continue to be very favorable for homeowners. The federal Investment Tax Credit (ITC) gives buyers the ability to take a 30 percent credit on their personal federal taxes. The Solar Massachusetts Renewable Energy Target Program (SMART) provides predictable earnings on generated solar power for 10 years after going into service.
Solar Incentives in Detail
These incentives together create an irresistible savings situation for most Bay State owners. However, both are becoming more limited over time. And the magic number is 4 percent – where each program's value is decreasing in 4 percent increments.
The SMART program provides incentives to owners by setting tariffs for in state utilities to pay for solar power generated by homeowners. Aimed at facilitating an additional 1.6 Gigawatts in new capacity, there are 8 declining blocks of tariffs, each block covering approximately 200 Megawatts of added solar. When each utility satisfies one block, new applicants are allocated to the next block, being assigned approximately 4 percent less value for the energy generated.
According to Michael Tanghe, CEO of SunRa Solar, "The beauty of this new renewable energy program is that it allows us to more accurately predict what each customer will save throughout the life of the program. The biggest variable now is timing. We cannot predict which block a customer will fall into until the papers are signed."
On January 1, 2020, the ITC will also decrease from 30 percent to 26 percent on schedule. That reduction is not trivial and can reduce an owner's benefit by as much as a thousand dollars, and more.
Nearly Automatic Savings
"As long as a customer's home works for solar, and most do, it is practically automatic in Massachusetts to provide a system that immediately reduces energy expenses – literally in the first month," says Mr. Tanghe. "And there is a great added bonus of significantly reducing a household's environmental impact at the same time."
About the company's updates he says, "We've chosen to extend our product line and options to give people more selections to fit their unique needs this year. We are convinced that 2019 is special year for low costs and high savings and want to help as many as we can realize their dreams."
He adds, "The key in selecting products is to make sure you can deliver the right value without compromising performance. Too often companies take the easy path and simply design with the lowest cost products they can find."
About SunRa Solar
The SunRa Solar team has helped over 700 Massachusetts homes go solar and enjoy significant savings with much less dependence on the utility market. With a strict focus on Eastern Massachusetts and Cape Cod, the company can quickly assess, design, install, and commission projects for most homeowners in this part of the Bay State.
Visit https://sunrasolar.com/ to learn more about solar energy technology and the services the company offers.
News Source: SunRa Solar