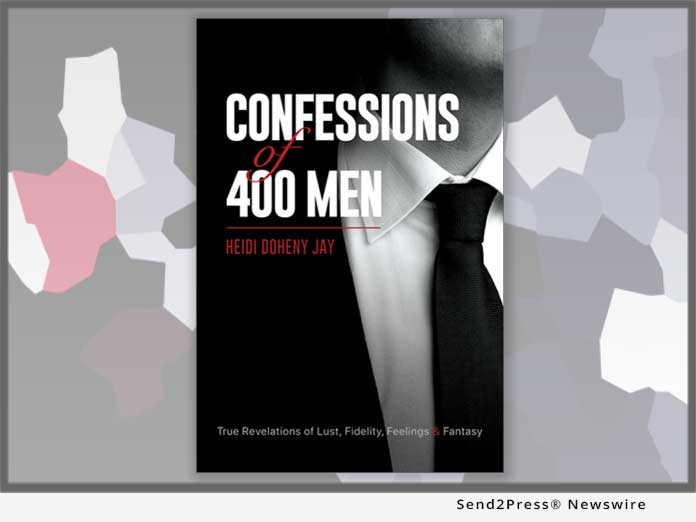 PHILADELPHIA, Pa., Oct 29, 2018 (SEND2PRESS NEWSWIRE) — Author Heidi Doheny Jay will debut her new book, "Confessions of 400 Men: True Revelations of Lust, Fidelity, Feelings & Fantasy" (ISBN: 978-1543925968) at Philly Art Collective: 253 N. 3rd Street Philadelphia, PA 19106 on Thursday, November 15, 2018 from 6-9 p.m. Press engagement is open from 5-6 p.m. Members of the press will receive a free copy of the book.
For "Confessions of 400 Men," Ms. Doheny Jay spent two and half years interviewing men from all ages and walks of life asking them to divulge their innermost secrets about the women they've loved. She pulled back the curtain on the untold side of the relationship story- his side.
She heard everything – lifelong secrets, funny snafus, lovers that got away and the real reason men long for intimacy. She discovered how common it is for men to feel lonely and what actually drives them to be unfaithful. She learned why men work so hard at their careers and not so much, seemingly, at their personal relationships.
"We miss the girlfriend we married," said Chris, a 59 year old married Caucasian professor from Delaware.
"Men like to fix things, that's how we show you that we care. Women need to pay more attention to this," said Trent, a 46 year old single African American social worker from Maine.
"The guy who actually wants to be in a relationship is worried that the perfect woman will come along and he won't be ready," said Steve, a 48 year old divorced African American transportation owner from the Midwest.
At a time when men are thought to be coldhearted and at best ruthless creatures, "Confessions of 400 Men" reveals their hidden side.
"This book exposes the side of men that's not talked about or shown to the world. When men feel safe and believe they won't be judged, they'll allow themselves to be seen by others, but few are ever given that opportunity," says Doheny Jay.
The author hopes to inspire men to feel more comfortable discussing their feelings and to help women better understand why men act the way they do.
"I set out to understand men better. I never expected to discover how lonely men are and how much they long to share their feelings," Doheny Jay adds.
"Men wanted to talk, so I kept listening — but after 400 interviews I knew I had more than enough to convince the world that men need to be heard just as much as women do. I truly hope to shift the paradigm and allow men the same luxury women have had for years, to freely express their feelings."
Learn more about the book at: https://www.confessionsof400men.com/.
About The Author:
Heidi Doheny Jay was born and raised outside of Philadelphia, Pa. She began her life as an aspiring dancer but quickly realized that she lacked enough talent to make it to the big stage. She turned to Pharmaceutical sales as a career and has spent the past 15 years in the industry. She discovered her affinity for writing while living in upstate New York when she accidentally signed up for a creative writing class that took place in the basement of a coffee shop.
She is an author, blogger and published columnist who explores the mysteries of life, relationships and what makes men and women tick. She is based out of Philadelphia. When she's not writing, she enjoys taking ballet classes, playing the piano and adoring her rescued blue nose pit bull, Lola Falana. She has a degree in Psychology and holds a Master's degree from Syracuse University.
"Confessions of 400 Men" is available at Amazon.com or anywhere books are sold.
For speaking engagements and interviews contact Heidi@heiditheauthor.com, https://www.heiditheauthor.com/ or follow her @heiditheauthor everywhere on social media.
Book Details:
"Confessions of 400 Men: True Revelations of Lust, Fidelity, Feelings & Fantasy"
October 2018 – Non-Fiction
$14.95 Print (ISBN: 978-1543925968)
$7.99 eBook (ISBN: 978-1543925975)
BookBaby Publishing.
* Image link for media: Send2Press.com/300dpi/18-1023s2p-confessions-300dpi.jpg
VIDEO (YouTube):
https://youtu.be/TpZOJr1BFhM
News Source: Author Heidi Doheny Jay
Related link: https://www.heididoheny.com/
This press release was issued on behalf of the news source, who is solely responsible for its accuracy, by Send2Press Newswire. To view the original story, visit: https://www.send2press.com/wire/confessions-of-400-men-true-revelations-of-lust-fidelity-feelings-and-fantasy/